We had multiple low fidelity prototypes to begin with, including a database of activity providers for QPL, a tandem mutual-aid platform, an event-organizing app for the community, and a localized marketing toolkit.
Low-fidelity prototype #1: the Culture Bridge Platform, a database of activity providers for QPL.
We came up with this prototype after a conversation with Yang Zing, the QPL Flushing Branch Director, who told us about Culture Bridge Program: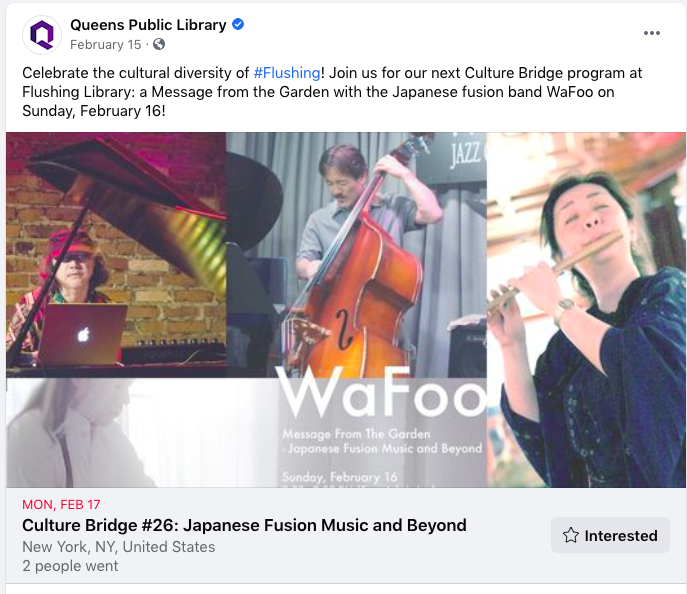 The Culture Bridge program is an officialization/standardization of the cultural events initiative of the Queens Library Flushing Branch. Its components include:
Program Flyer is bilingual
Presenters explain a little bit about the culture
MC is multilingual
Program is a culture education program
2-3 years ago was launched ⇒ cover as many cultures as we can (dependent on budget, they change cultures every year)
Last year: Jamaica (promoted reggae artists)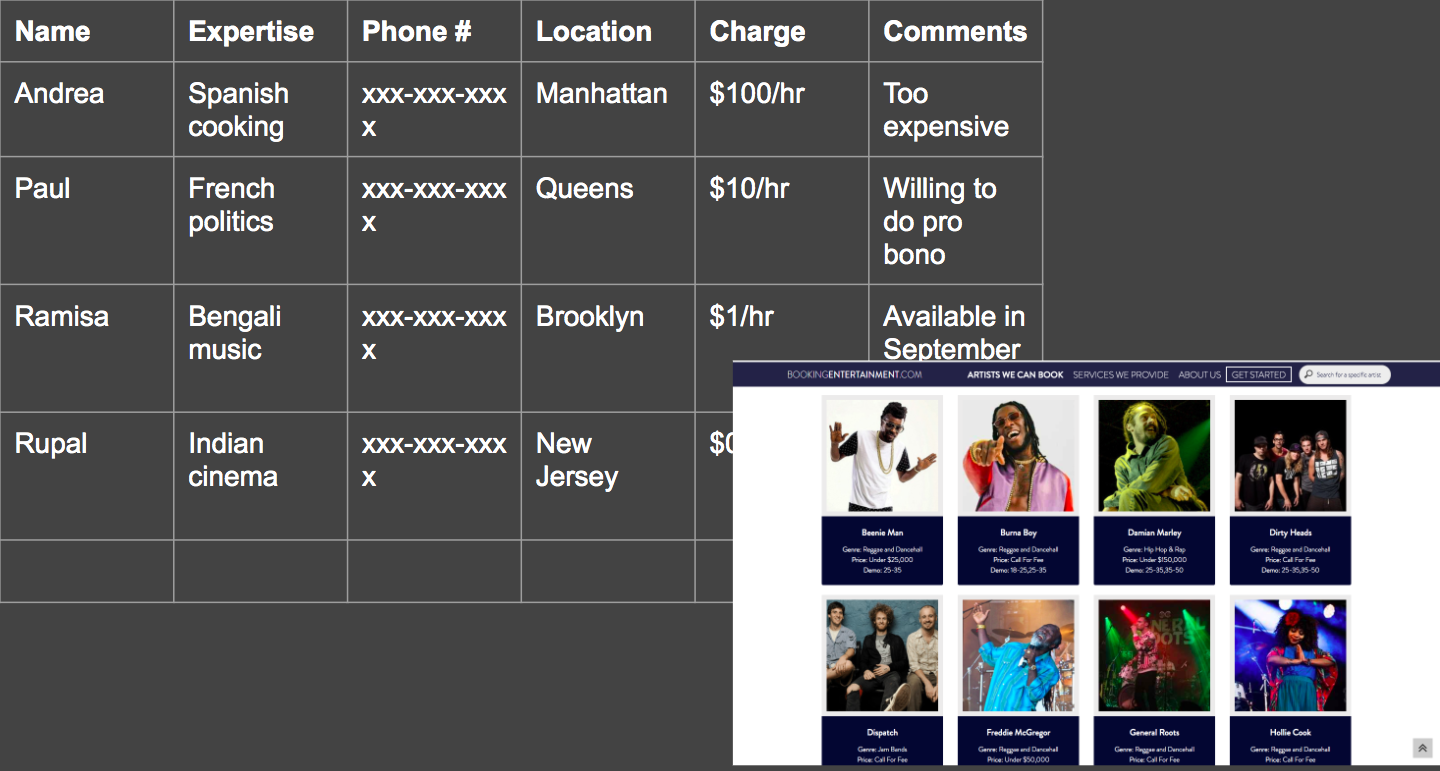 Biggest pain: finding performers and artists
Through this engagement, we decided to implement the Culture Bridge Platform, which at the moment was a database to help find performers and artists for cultural events at the QPL, which would allow members of the community to share their culture and perform in different languages.
Low-fidelity prototype #2: the Tandem Mutual Aid Platform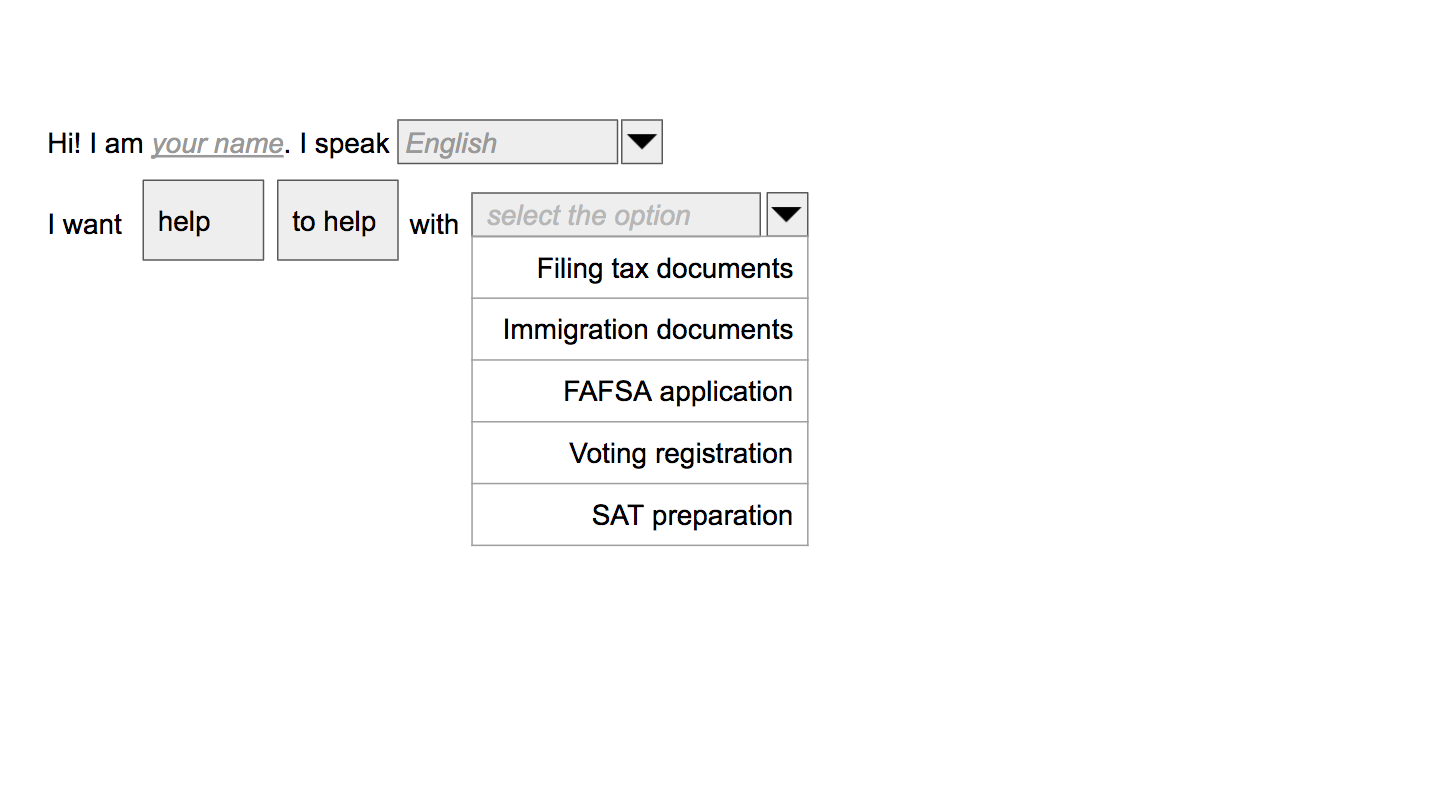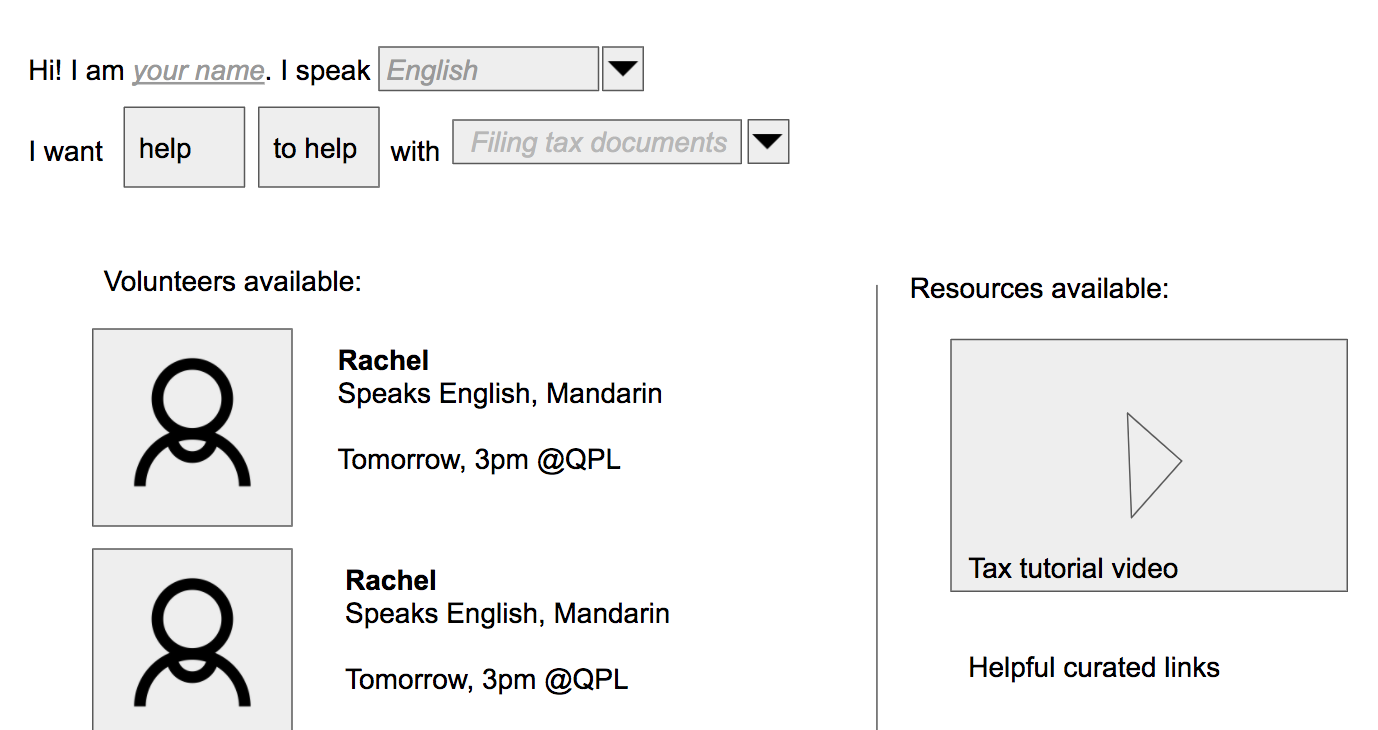 Tandem mutual aid platform: a platform where people can offer their help and get help, such as getting help with filling out government documents or with language learning. We decided to create a prototype for this idea because much of the engagement we had with various first- and second-generation immigrants centered around the difficulty of doing tasks for non-English-speakers that involved complicated language and the burden that is placed on many second-generation immigrants of serving as translators for their parents:
Joseph: parents have a harder time with data as they do speak only Spanish
Sandra: filled out forms for parents because they did not know Bengali
Alex: "I have helped my mom fill in government and tax documents."
Evelina: "I had to take on the role of translator for my mother and father. This meant that at young ages, I would have to look at extremely complicated governmental documents and state mandated documents for both my parents and myself"
PIT Considerations: We asked ourselves, "Have we identified the questions and risks most relevant to the chosen technology?". For this tandem mutual aid platform, we asked ourselves, How do we keep the platform very simple and user friendly? How do we incentivize people to volunteer their time? How do we make sure that there are no fake requests/volunteer profiles? What do we scope it to? How do we not burden the library and its staff in making this facilitation happen? These questions helped later guide our design decisions.
Low-fidelity prototype #3: Events App, create and submit events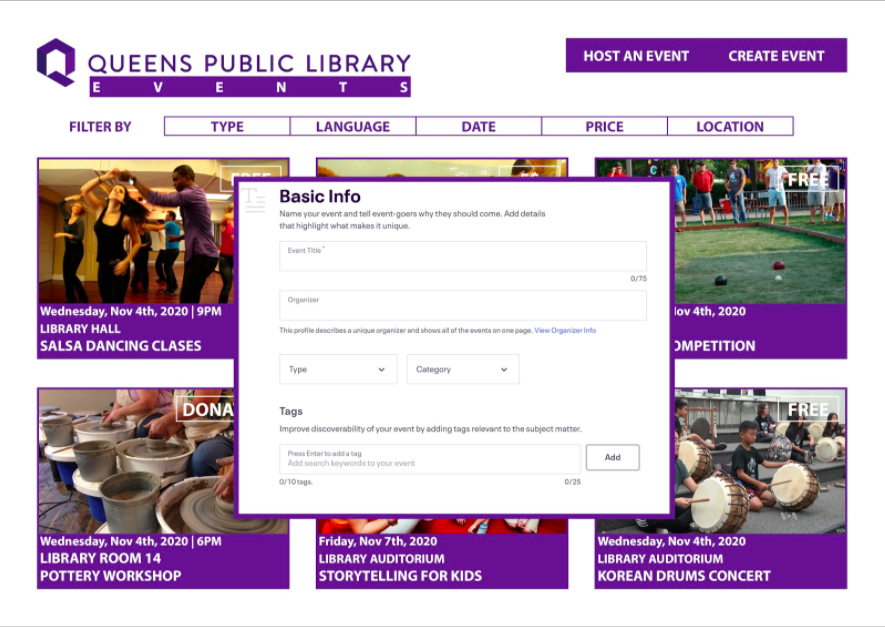 Prototype is an events app that would allow individuals and collectives to create and submit an event. The app was also intended to help to find performers, instructors or any other thing needed for the realization of the event. The app would allow local businesses to advertise their places as potential locations where to host the events, with the local businesses obtaining visibility in exchange. We decided to go with this prototype because during our research phase, we observed that there is not a place to advertise QPL's New Americans Program's Cultural Programs, and there is not a tool that helps people and communities to propose event ideas to the library, showing a lack of agency.
PIT Considerations: Again, we evaluated some of the risks that accompanied this events app, which included risks on both the institutional side (the library's side) and the user side. Some of the risks on the institutional side were that the library could reject to do "extra work", such as approving and moderating additional events, and that they could also reject the idea of advertising of other events that take place outside the library, especially at local businesses. Some of the risks we assessed on the user side included the facts that people not comfortable using applications will have a barrier, and the "approval" requirement may force the library to develop policies related to its criteria, since some users may feel "unfairly rejected". Again, we used these risks to help guide our future design decisions.
Low-fidelity prototype #4: Localized Marketing Toolkit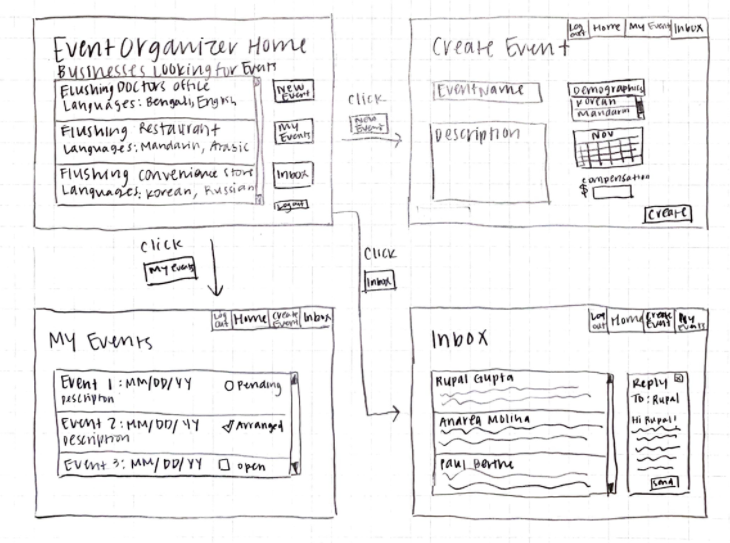 Localized marketing toolkit which allows event organizers to market events that benefit Queens' communities. It allows local essential and non-essential businesses to sign up to promote an event, getting compensated in return. We created the prototype because Organizers are often not integrated in the communities they are aiming to reach. When organizers do try to tap into these communities and are somewhat successful, they often are only able to capture one specific demographic of the community and miss out on advertising their events to members of the community who would still benefit from these events, but are more difficult to get into contact with.
PIT Considerations: Some of the questions and risks we identified relating to this localized marketing toolkit were: How will we get local businesses to use the app in the first place? How much compensation must we give to local businesses? How will we measure success in event recruitment by local businesses? How will we allow event participants to suggest their own events? How will we allow event participants to give feedback on events? We kept these questions in mind when moving forward with the prototyping stage and deciding on a single prototype.
Moving forward
Despite having four low-fidelity prototypes, we eventually decided to combine the events app with the tandem platform as well as integrating the database of activity providers after getting feedback to do so, as there was co-existing synergy between getting help/offering help to the community and creating community participation in events.
Medium-fidelity prototypes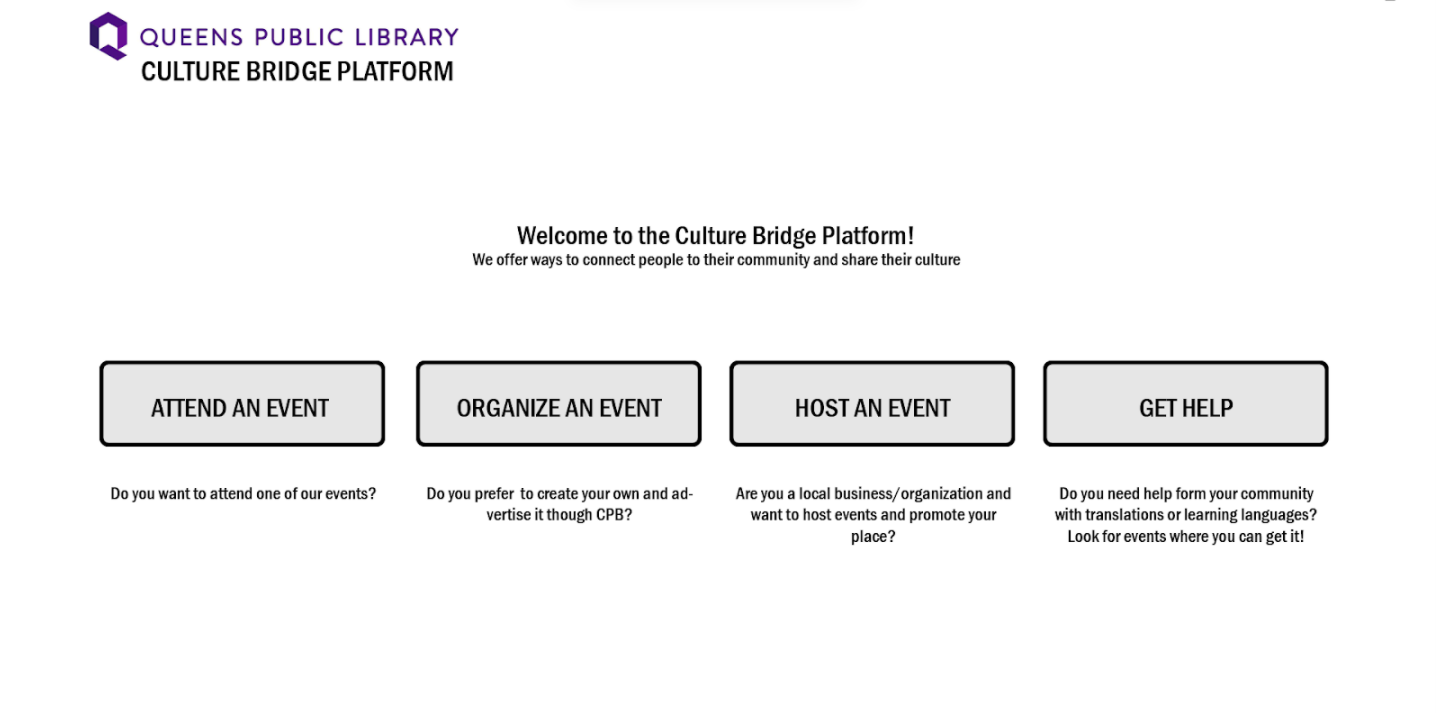 Iteration One
For our medium-fidelity prototypes, we tried to combine some of our ideas into an "events" platform. As you can see at the first page, for our medium-fidelity prototype, users could do multiple things, i.e. attend events (i.e. attend the events that QPL is already organizing), organize events (i.e. create own event using community space like the library), host events (i.e. community centers and businesses offer their space for events), and get help (i.e. users get help before/after an event from community members).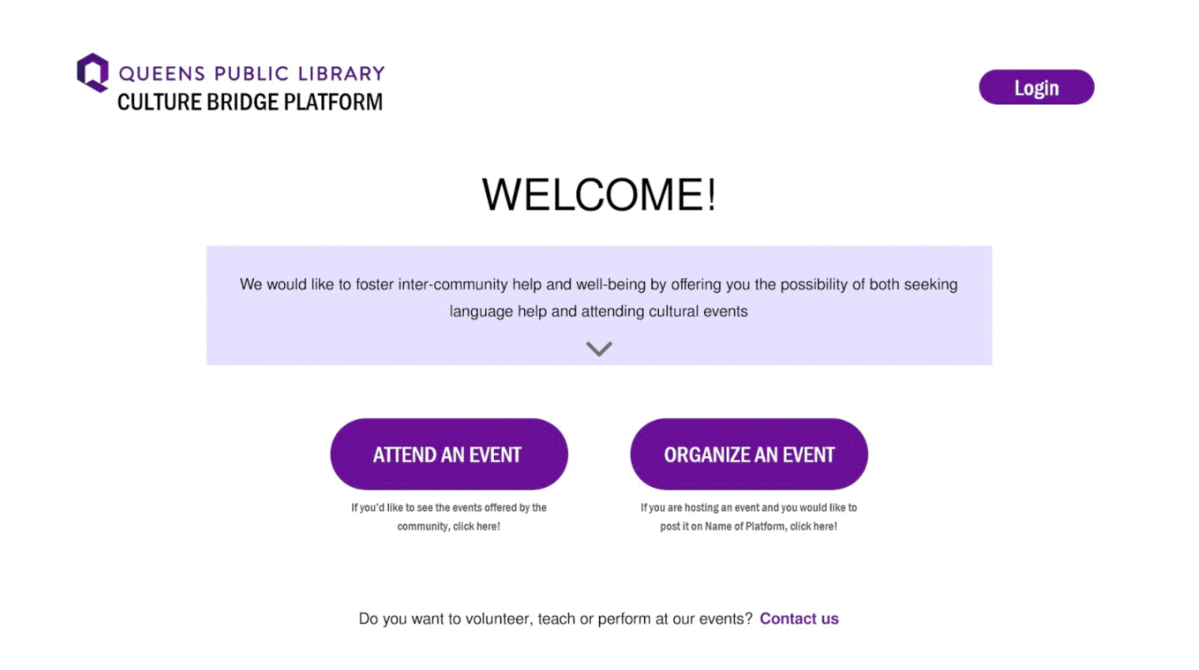 Iteration Two
We got the feedback that too much was going on, so we simplified our design to two core functions: organize events or get help at event. Moreover, we realized that setting up "host event" option in community spaces needed a trust audit method so the event put up on QPL website is at least deemed safe to go to. We decided to push this functionality to V2.
PIT Considerations
Users validated our ideas, but were concerned that too much going on, and the goal of the platform was unclear and confusing, which was the biggest risk of our design. While the interactions were intuitive, we learnt that users did not like reading the army of text on the home page, so we had to think about a succinct way of communicating the idea. We also got the feedback that the "JOIN" as a call to action was vague and unclear. The idea that users found most compelling was "getting help at events", so instead of laying ourselves too thin, we decided to prioritize the journey of getting help before/after events, as a means of creating a community mutual aid-network, while enabling community participation, and iterated over the Mid-fidelity prototype on the design stage.
High-fidelity Prototype #1 (Design)
This platform allows Queens residents to get assistance from their fellow community members before or after an event held at the QPL.
First, we changed the homepage to have only one call, instead of two. Additionally, on the event page, we replaced the "Join" button with "Get Help" and "Offer Help"; "Create an Event" with "Submit a Proposal", and decided to show volunteers' languages instead of names.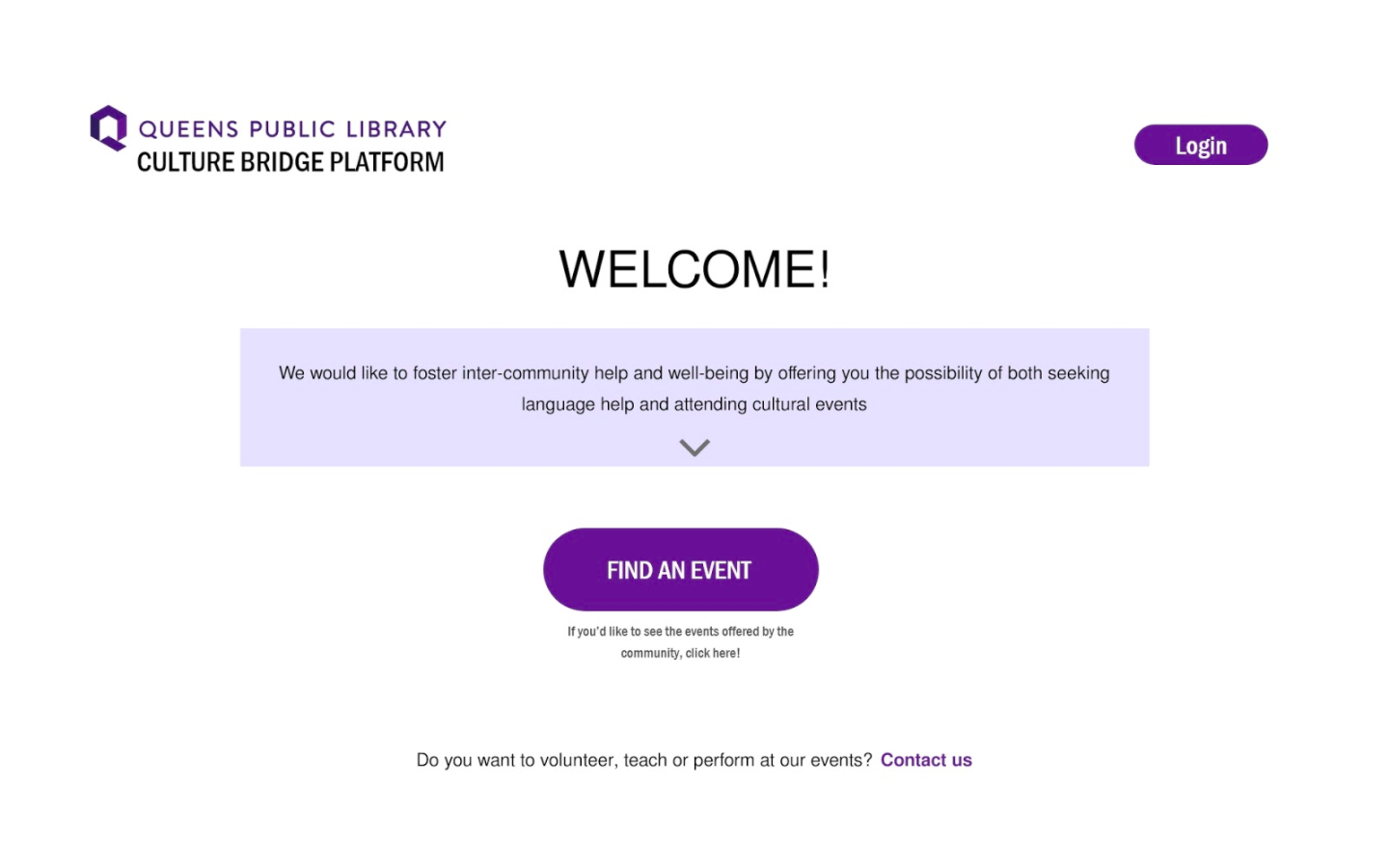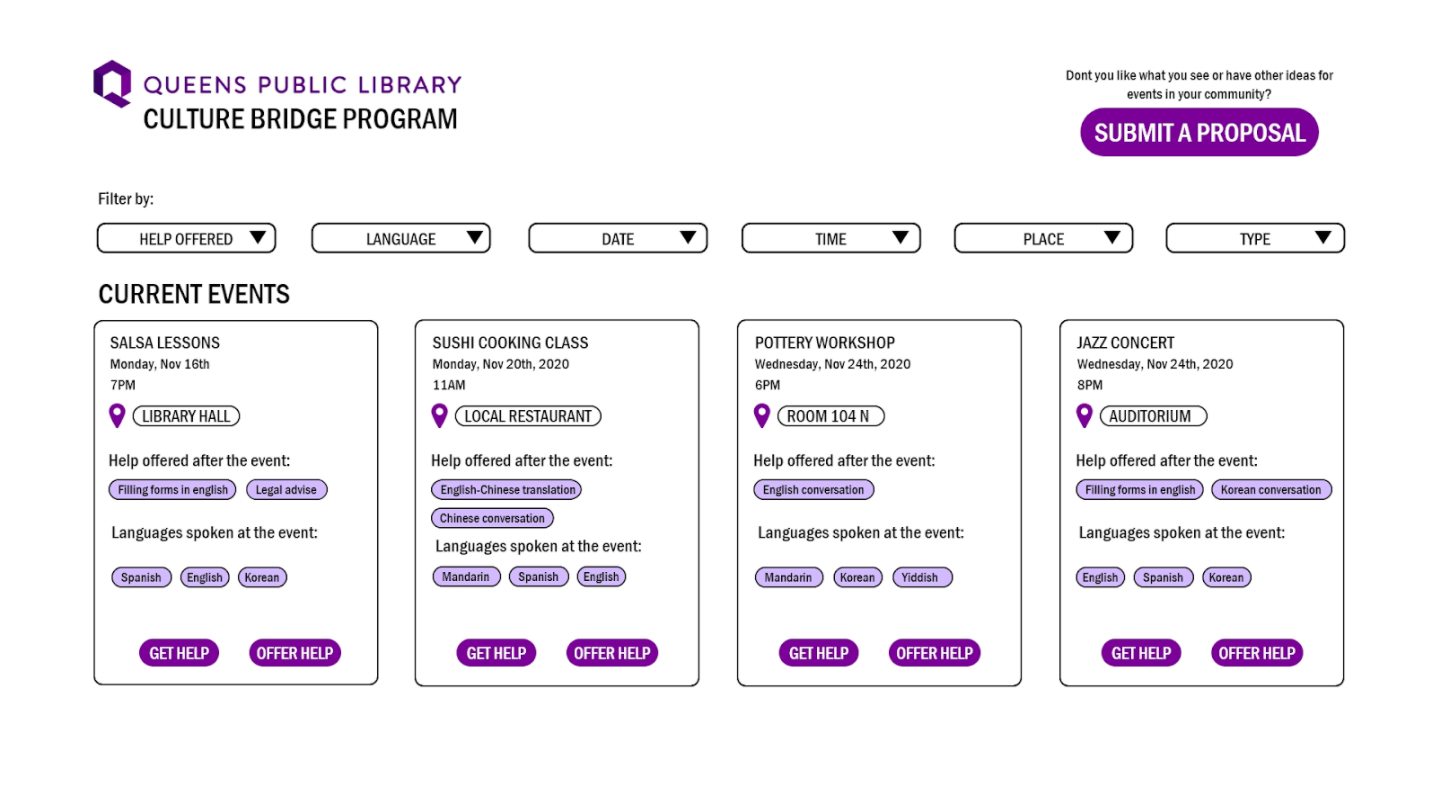 PIT Considerations
While the interactions were intuitive, we learnt that some users still had issues understanding what the platform was doing. Some thought language translation services were available for the events. We also learnt that "Get Help" and "Offer Help" did not sound sincere, and chose to pivot to "Find Buddy" and "Be Buddy".
High-fidelity prototype #2 (Technical)
We made the interactions and the design on the technical prototype match that of the high-fidelity #1.
Based on the feedback from this, we changed the "Get Help/Offer Help" to "Find Buddy/Be Buddy". We also made the home-page less text-heavy, more intuitive, and changed the name of the program to "Culture Buddies".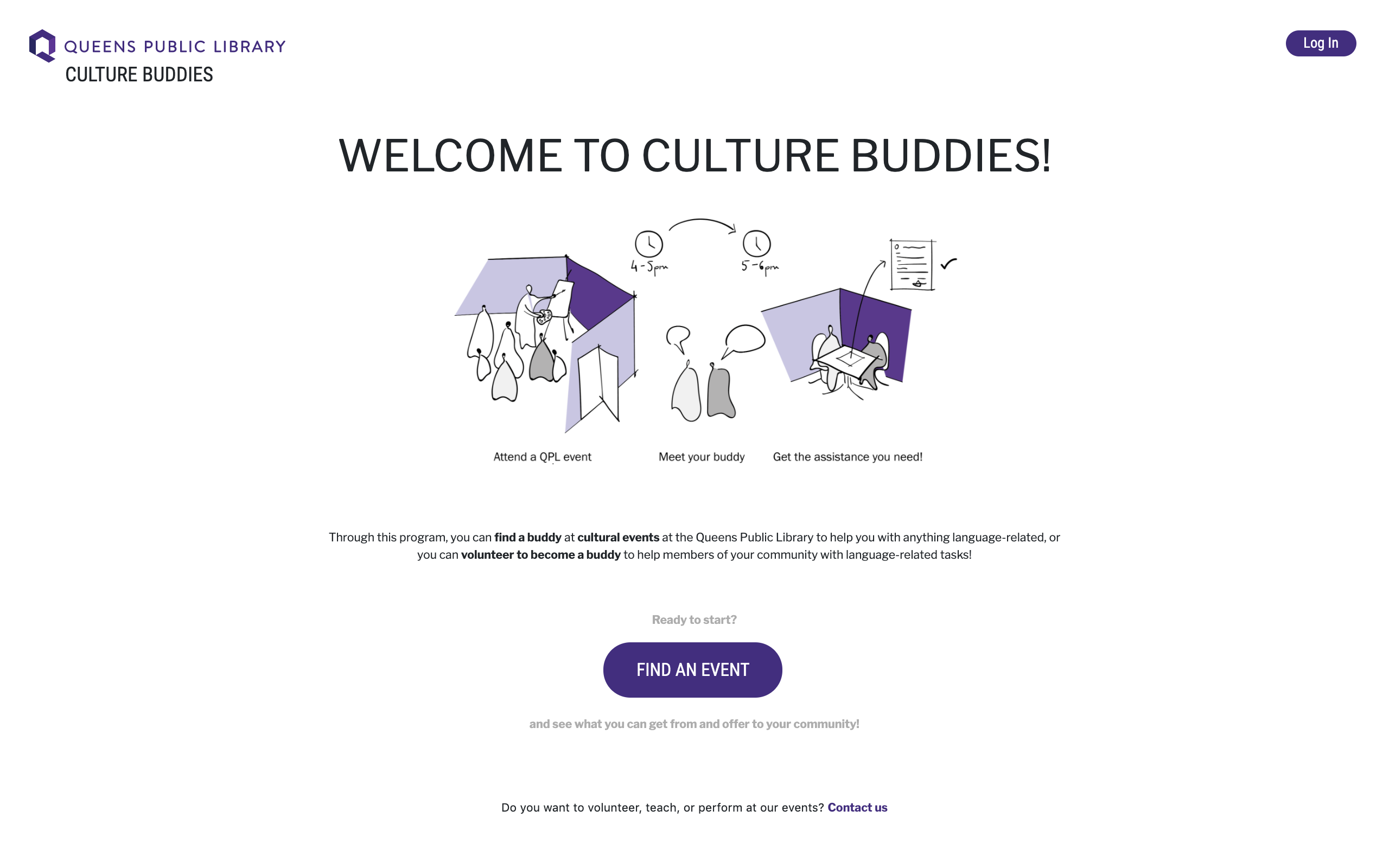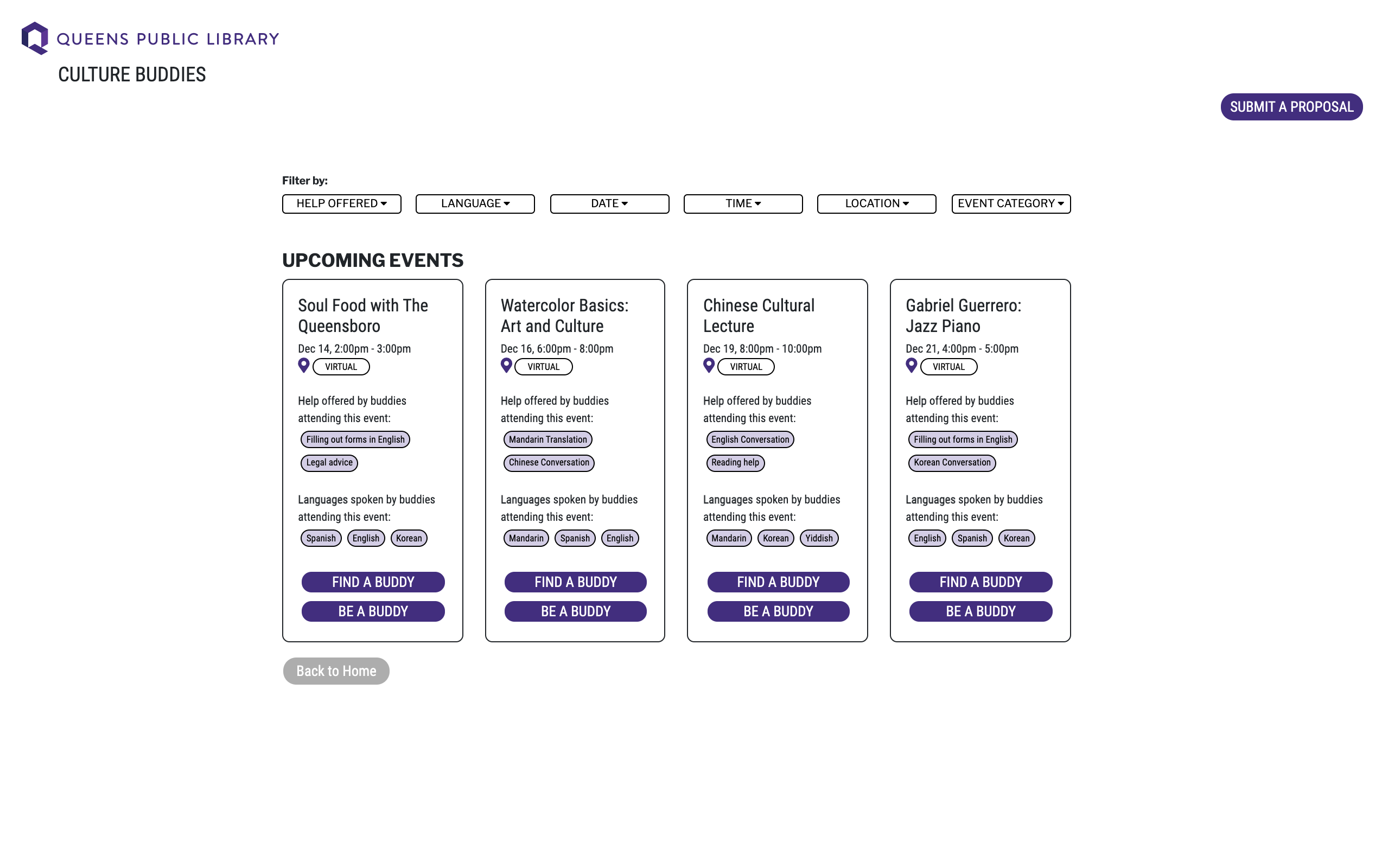 PIT Considerations and Next Steps
As we developed our high-fidelity prototypes, we continued to assess risks associated with our prototypes. First, we asked ourselves, "Have we identified the questions and risks most relevant to this population?" We followed this up with more questions: How are we going to promote the platform? How will we translate the platform in other languages? How will the platform be accessible for less tech-savvy users? We need a strong initial user base for the tandem to work, so we had a call with Nick Buron, the Chief Librarian, to discuss the promotion of the platform in the QPL marketing ecosystem. However, we were unable to address the other questions and plan to find ways to translate the platform into other languages and make the platform more accessible for less tech-savvy users in future iterations.
Visual Language and Design
As we were designing specifically for QPL and the communities that it serves, the visual language to keep at its heart the diversity of Queens community through various forms.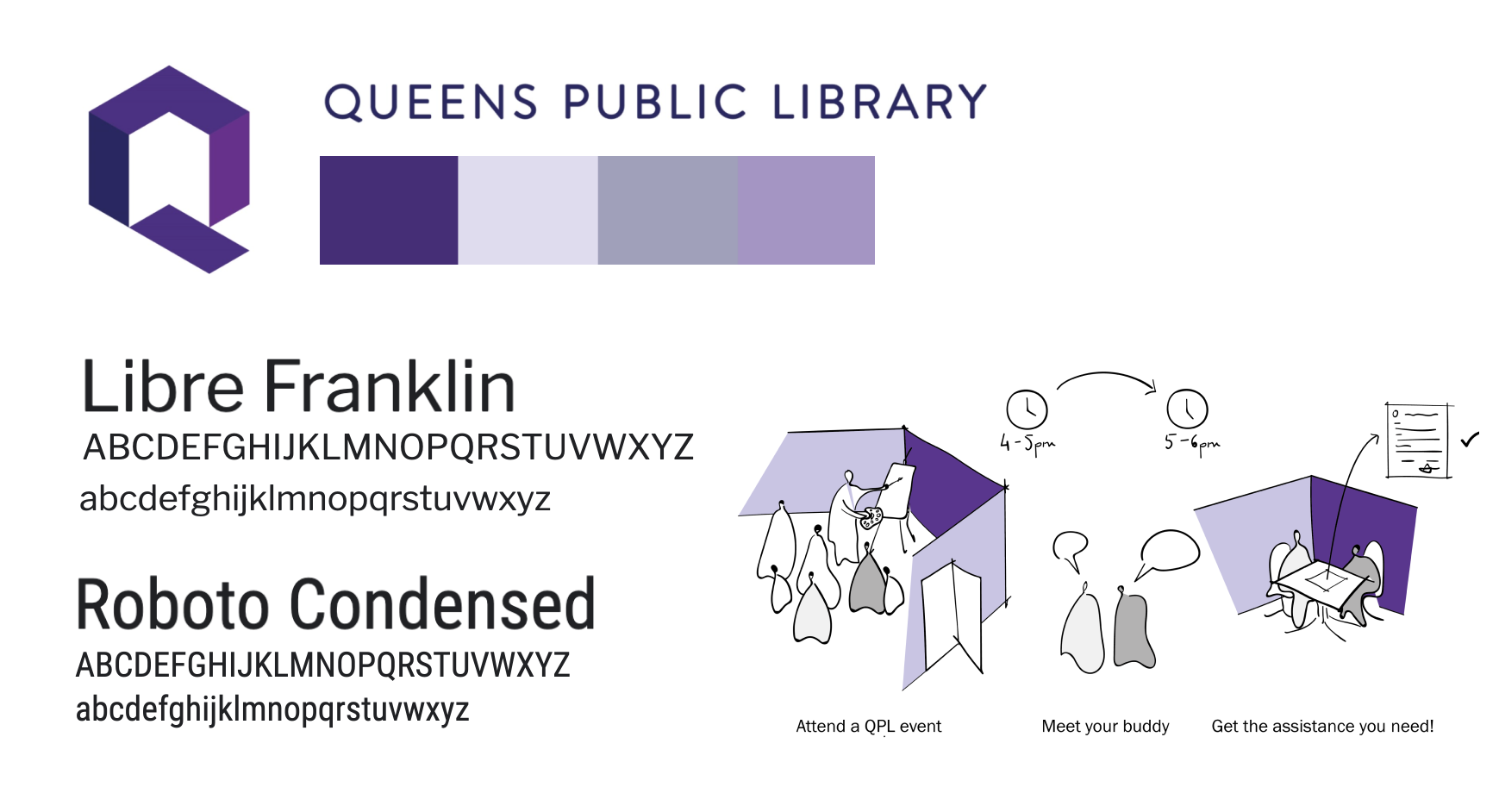 Color Palette
We utilized QPL's website and logo's color palette, utilizing shades of purple, black and white, as seen in the high- and medium-fidelity iterations of our prototype.
During our research, we found that "QPL's main color is now purple, a color associated with some of the qualities QPL seeks to cultivate, such as wisdom, creativity, dignity, and ambition, and a secondary palette of colors highlights the vibrancy and diversity of the public the Library serves."
Typography
We used sans serif fonts throughout our prototype. We chose to use sans serif rather than serif because we wanted to be associated with the feelings of casual, informal, friendly, and very approachable rather than traditional, established and trustworthy. It is, after all, a platform for Queens residents to find buddies and offer to be buddies.
Graphic: We used some iconography to explain the concept of our Culture Buddy program that is accessible through a visual, eliminating the need to read long sentences. This effort makes absolutely clear that the diverse communities was to make it clear to the target audience what the platform was about
Throughout each prototyping stage, we tested each prototype on many different users to evaluate the effectiveness of each of the prototypes and further understand the domain and interaction with the community, as highlighted in the PIT double diamond design process.
Testing Iteration #1
After creating our four initial low-fidelity prototypes, a database of activity providers for QPL, a tandem mutual-aid platform, an event-organizing app for the community, and a localized marketing toolkit, based on feedback we received from instructors and classmates, we decided to merge these prototypes to end up with only two prototypes: the Culture Bridge Platform and the Tandem Platform and Events Management System. These merged prototypes were then tested on target users, particularly first- and second-generation immigrants, for usability.
Much of the feedback for the mid-fidelity Culture Bridge Platform prototype criticized the prototype's lack of understandability or intuitiveness; most users that we tested on were unable to understand what the purpose of the Culture Bridge Platform was. Some important feedback from these tests is highlighted below:
"I don't understand well how I can find help. I would like to find help without going to an event."
"You need a better description at the front site, so people understand that it is not just about events, but that is building community and offering social help."
Tianyu (1st gen, Chinese)
This feedback greatly helped influence our design, as we learned that while the purpose of our program might be clear to us, the people who designed it, it may not always be clear to others.
During this round of testing, we also tested our second combined prototype, the Tandem Platform and Events Management System. Like the Culture Bridge Platform, we conducted usability testing on first- and second-generation immigrants who we were able to contact easily, many of whom were close in age and background to us.
The testing results we received for the Tandem Platform and Events Management System revealed a similar issue as to the main issue we experienced with the Culture Bridge Program--a lack of clarity. For this prototype, much of the criticism received from users we tested on related to the presence of terms or wording that was unclear:
"You need to more clearly define what things are, like compensation and what event status symbols mean."
Sandra (2nd gen, Bengali)
"It's not clear what exactly an event organizer or activity provider / facilitator is."
Like the Culture Bridge Platform, after testing the Tandem Platform and Events Marketing Toolkit, we learned that we cannot assume the user will always understand the language or wording of our program.
PIT Considerations
One of the PIT questions that we strongly considered after reflecting on our feedback for this round of testing was "Does the population you tested on reflect the most vulnerable populations?" To that, we answered NO. While many of the users we tested come from low-income areas and include target first- and second- generation immigrants, they also were mostly all college-educated, had access to the Internet, and were able to get through some testing on a simple video or phone call. Some of the most vulnerable populations that we're designing for are from low-income communities that don't have access to the Internet and may not have a college education. Additionally, all of the people we tested our prototypes on were in a similar age range to us, so we failed to include older users who may not be as technologically-savvy in our testing of our medium-fidelity prototypes. Because of this, we had to refer back to our research to think about possible issues that vulnerable populations may run into while using our program.
The feedback we received from our first round of user testing in tandem with our reflections on our lack of testing on the most vulnerable populations greatly helped influence our design decisions, as in the next iteration, we focused on optimizing our prototype to be simpler, clearer, and easier to understand, both in terms of the program's objective and the language used in the program, the latter of which is extremely important because some of our targeted users are non-English-speaking immigrants.
Testing Iteration #2
Taking this feedback and research into consideration, we decided to combine the Culture Bridge Platform and the Tandem Platform and simplified the program to only include the actions of "Attend an Event" and "Organize an Event," removing "Host an Event" and "Get Help" as having additional actions confused users, especially since the title descriptors were not clear for the latter two. We also decided to include a short explanation of what the Culture Bridge Platform is meant to accomplish.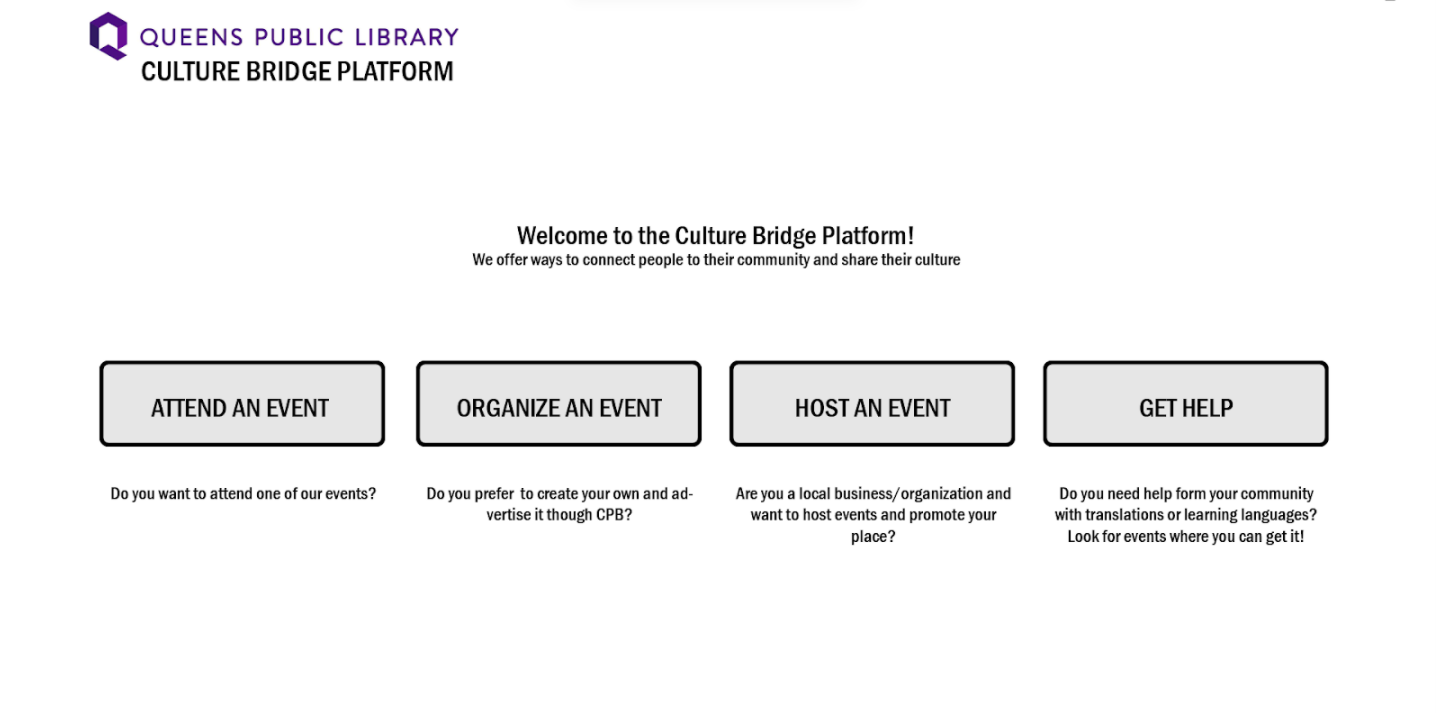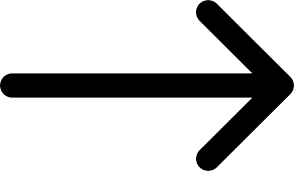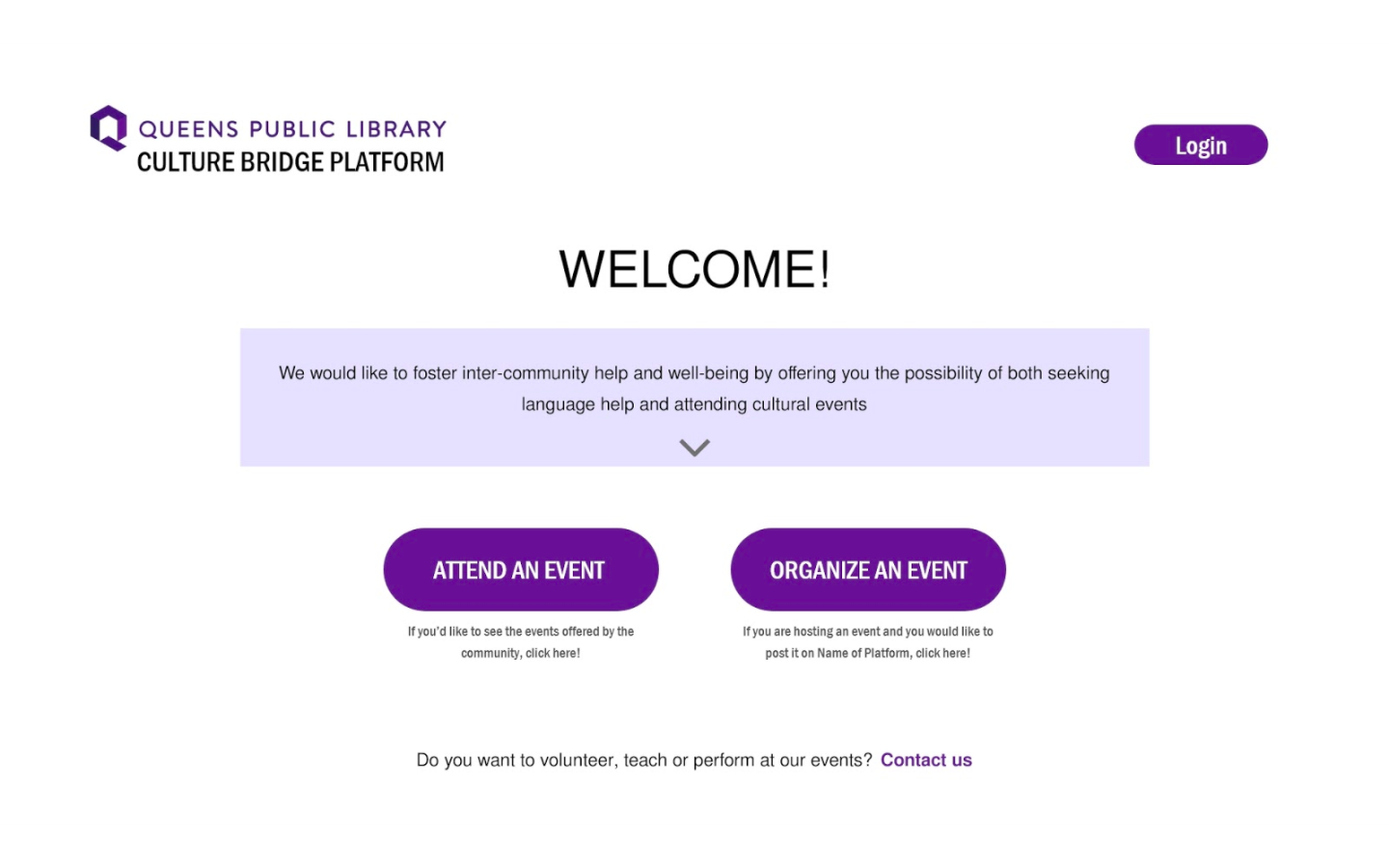 Before testing our next medium-fidelity prototypes, we received feedback from instructors and classmates that suggested that our program is still too complicated. We realized that our goal for the scope of this class was to create a functional prototype that does one thing well, and we decided that we wanted to focus on building our prototype to center around the "Attend an Event" interaction, where people who need language-related assistance can be matched with those offering such assistance while granting the ability to attend a cultural event at QPL.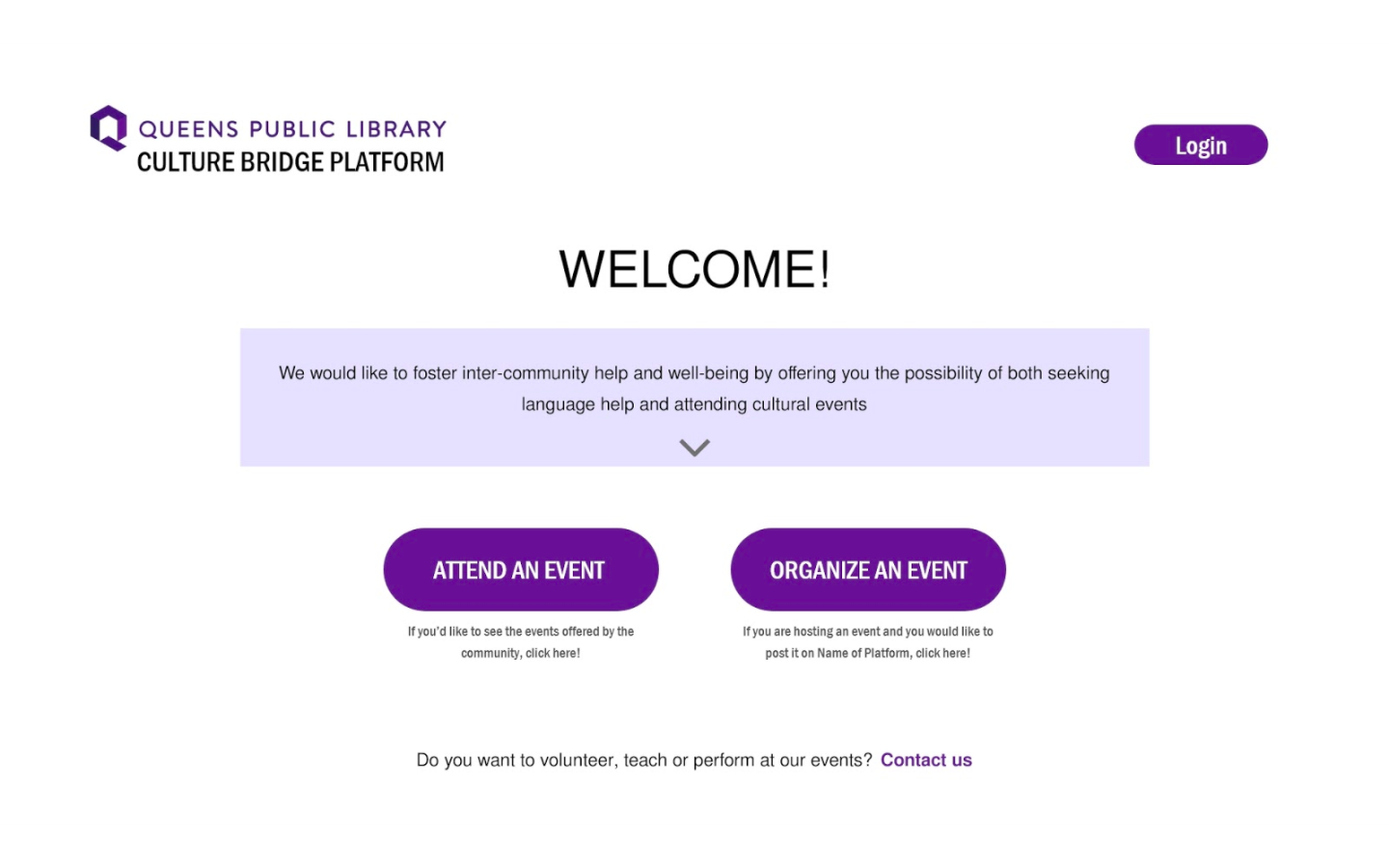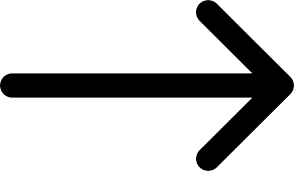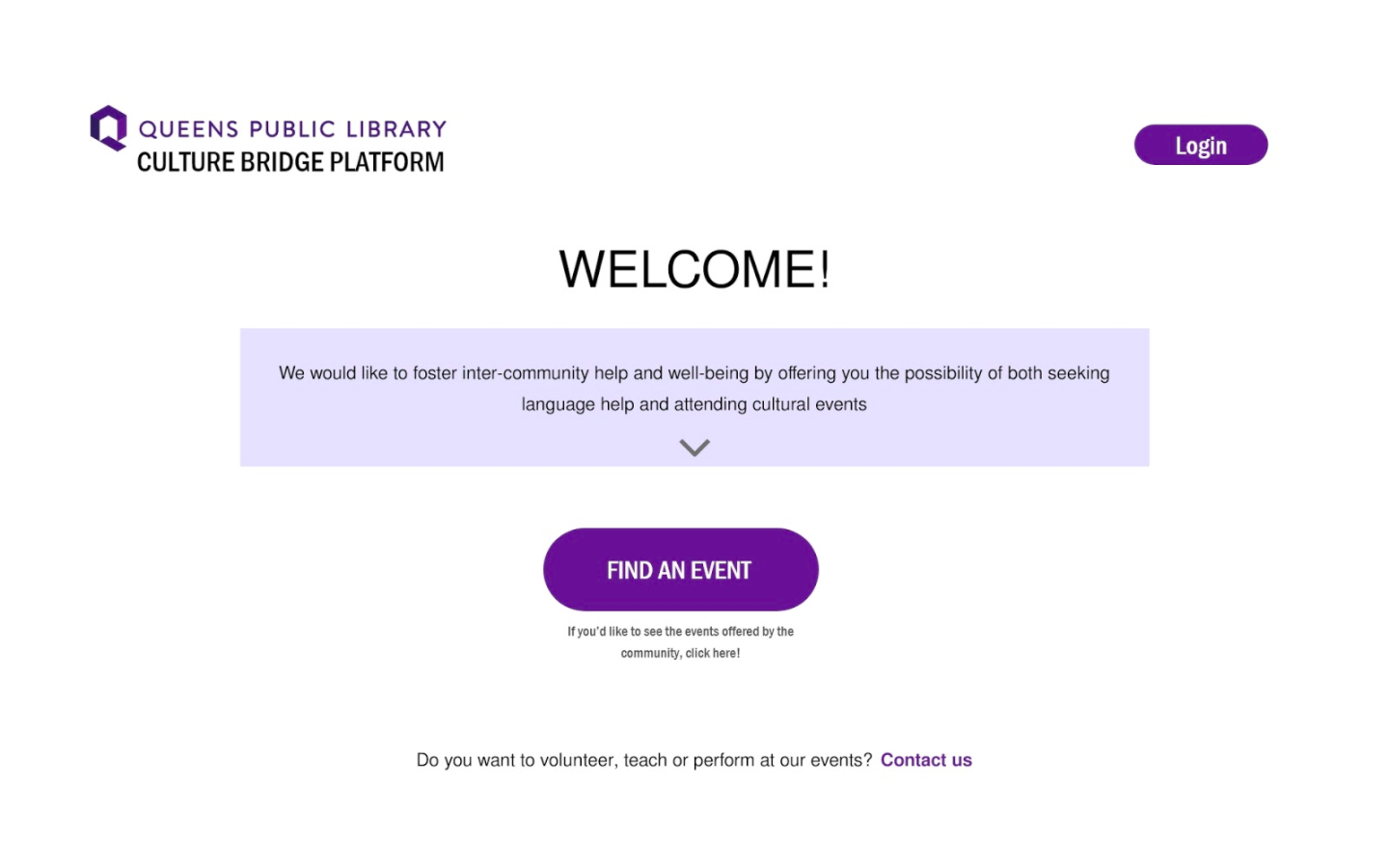 At this stage, we realized that while we took into consideration the fact that the purpose of the Culture Bridge Platform was not easily understood, we failed to account for some of the areas we could improve our program based on our reflections of the PIT question, particularly the inaccessible language used throughout the program. Thus, we adapted the introductory text on the landing page to use more accessible language and changed the title of the program from "Culture Bridge Platform" to "Culture Buddies."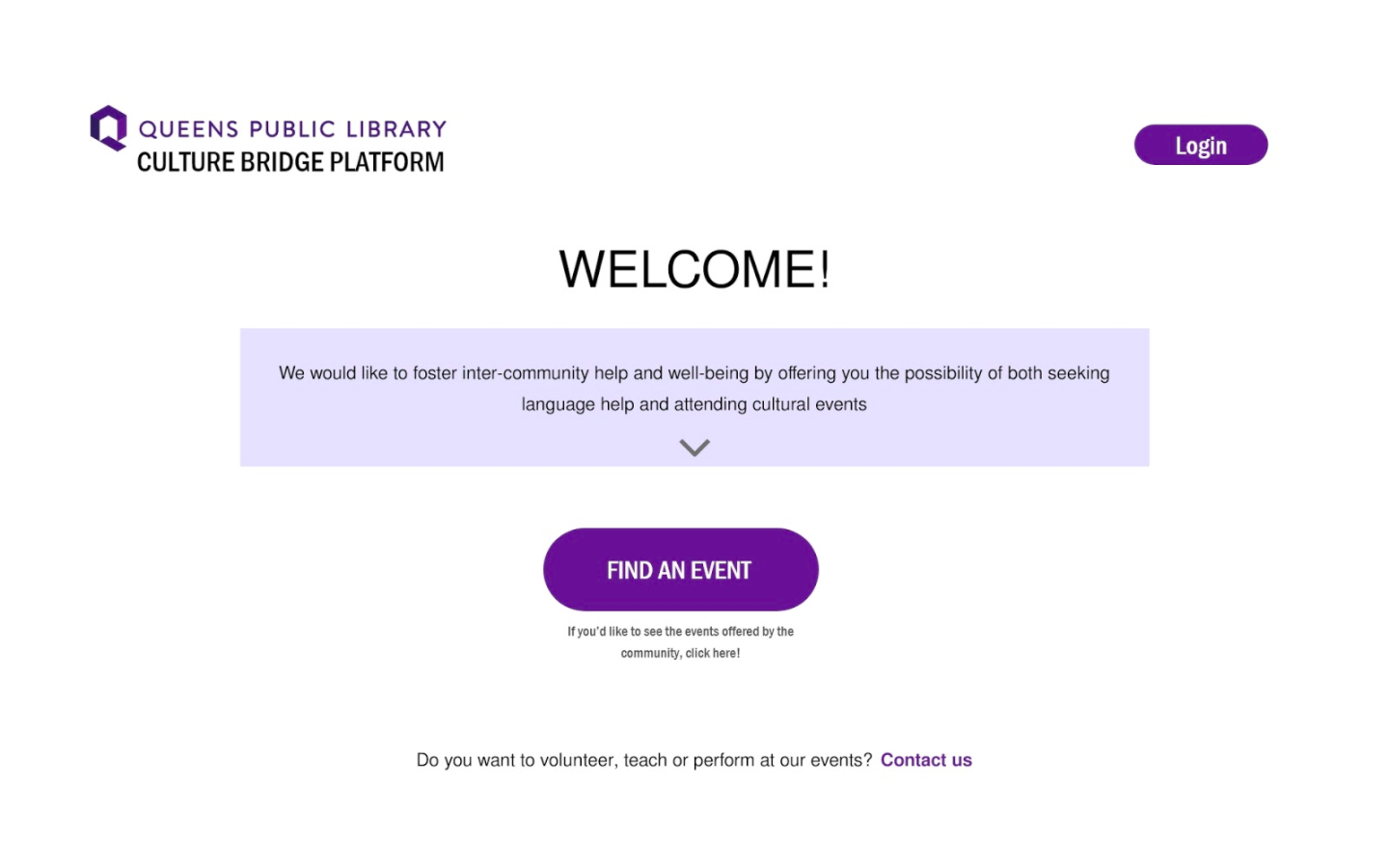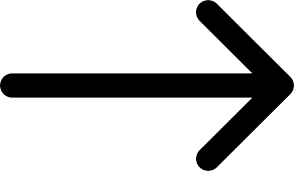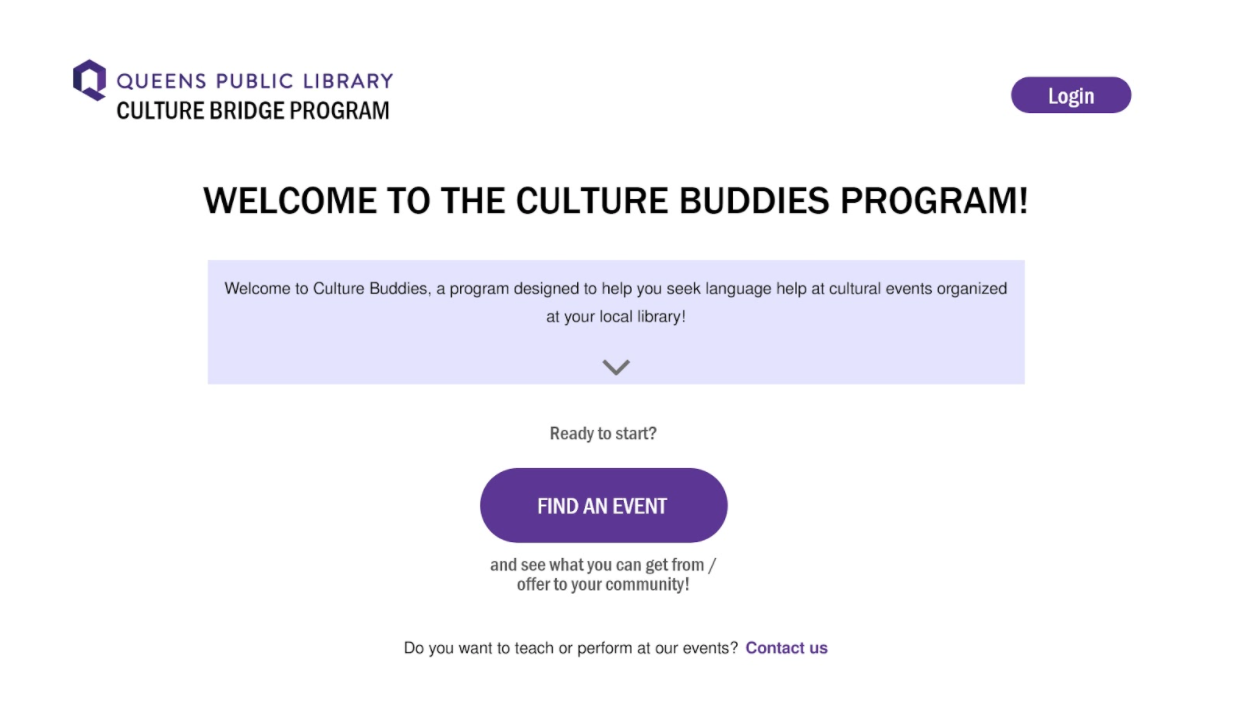 We then tested our updated design prototype on several users similar to the users that we had tested our prototypes on previously. We received a lot of positive feedback, such as the interface being clean and visually appealing, but most of the criticism we received once again centered around the lack of clarity in our language and difficulty understanding the purpose of the Culture Buddies program. Users specifically pointed out issues with the explanatory text on the landing page and the "Get Help" and "Offer Help" buttons on the events page:
"The welcome message is confusing and does not explain the concept well."
"'Get help' is very misleading, as I assume it means getting help navigating the website. I'd write something like 'volunteer help' instead."
"Confused about what the platform does exactly."
During our second round of testing, we also tested our technical prototype. Some of the risk questions we assessed based on prior feedback and testing include: What does the platform do? What do "get help" and "offer help" mean? Are interactions easy to understand/follow? We received similar criticism on the technical prototype as we did with the medium-fidelity design prototype:
"The functionality of the platform was unclear."
"I'm confused by the 'help' in 'get help' and 'offer help'."
"Home page: text too long! People do not like reading!"
Pranava (bilingual, South Asian teen)
"Thought that 'get help' was basically translating the event from its language of delivery to the selected language!"
Anju (bilingual, South Asian 40 y/o)
PIT Consideration
We returned to the question, "Does the population you tested reflect the most vulnerable populations?" Our answer was once again NO. Although we did test on some first- and second-generation immigrants as we did in our previous round of testing, we were once again unable to reach the most vulnerable populations. Since most of our group is not currently located in the NYC area, most of the people we tested our prototypes on were people who don't live in New York, who would then never use the Culture Buddies program. We did test on one user who is older and not technologically fluent, but the rest of the users we tested on were decently comfortable using technology. However, although we tried our best to make our testing population more reflective of the most vulnerable populations, restraints such as physical location and COVID-19 made it very difficult for us to seek out and contact these users to participate in our tests. In future iterations, we hope to test on these more vulnerable populations.
Final Design Decisions
Reflecting on this again, we made our goal for the next iteration to combat the Culture Buddies program's inaccessible language and unclear purpose. These influenced the next major design decisions we made in our final (for now) prototype. First, we added a visual to the landing page that illustrates how the Culture Buddies program works, removing the long textual explanation of the program and adding a short, simple sentence below the illustration to complement it. By doing this, we hoped to not only make the purpose of Culture Buddies clearer, but we also hoped to make it easier for non-English speakers to comprehend as visuals can be more easily understood than text by those with limited English proficiency.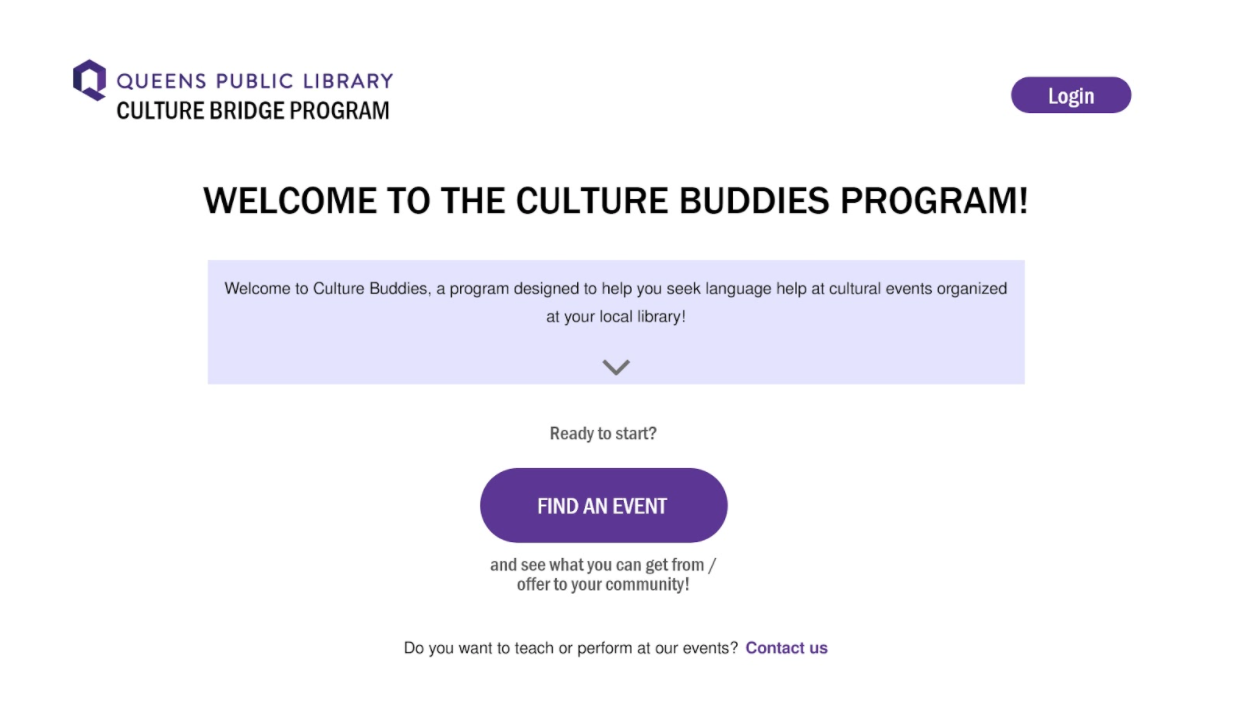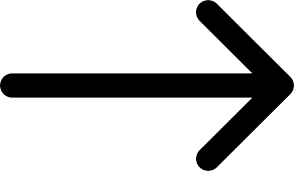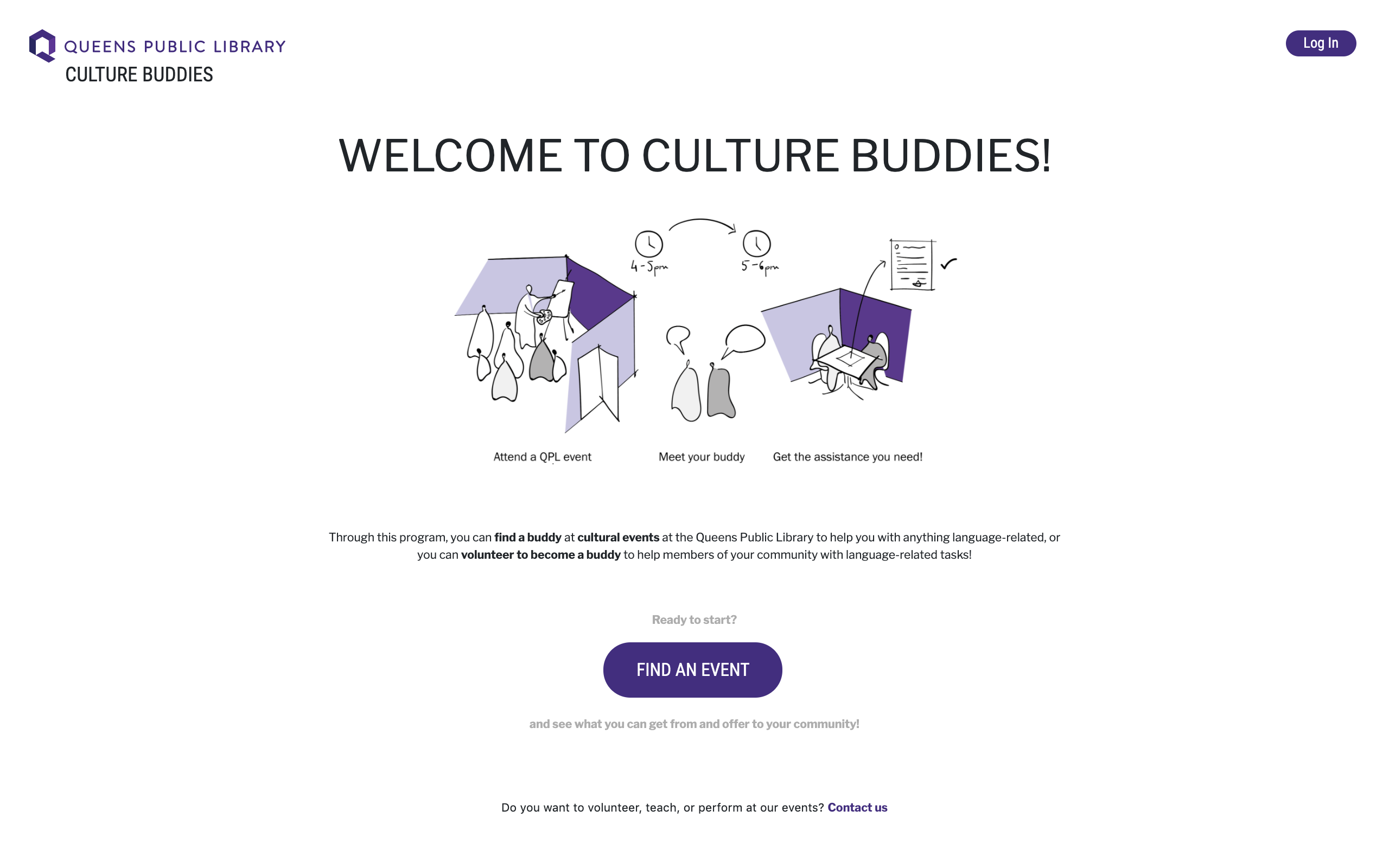 Finally, based on the feedback, we decided to change "Get Help" and "Offer Help" to be more clear and consistent with our title: Culture Buddies. We changed "Get Help" into "Find a Buddy," while changing "Offer Help" into "Become a Buddy." We also changed the language used to describe the rest of the buddy-related event details, such as the languages spoken by buddies attending the event and the language-related help offered by buddies attending the event to make it easier and clearer to understand.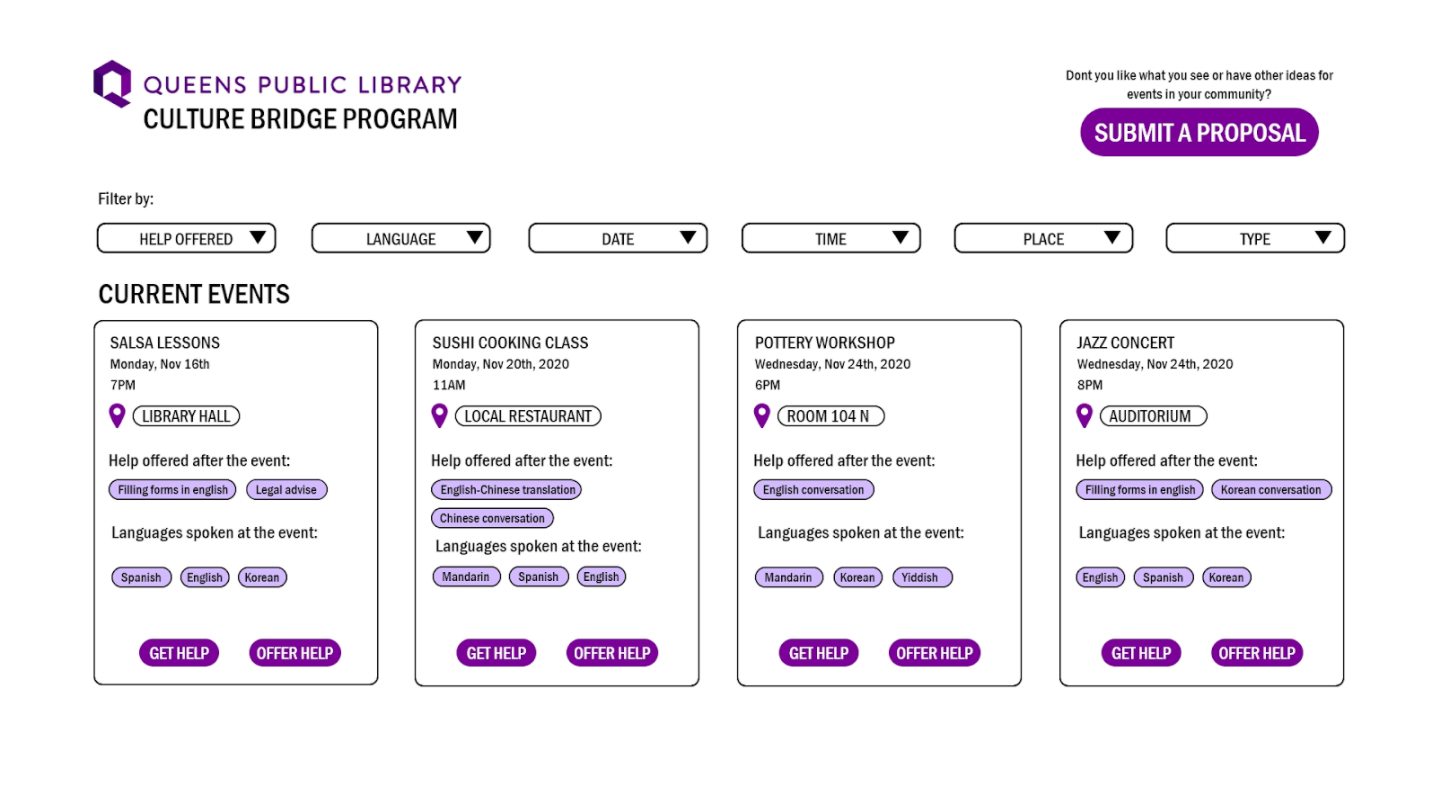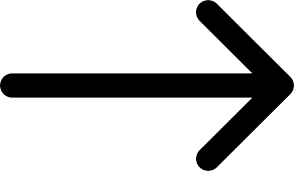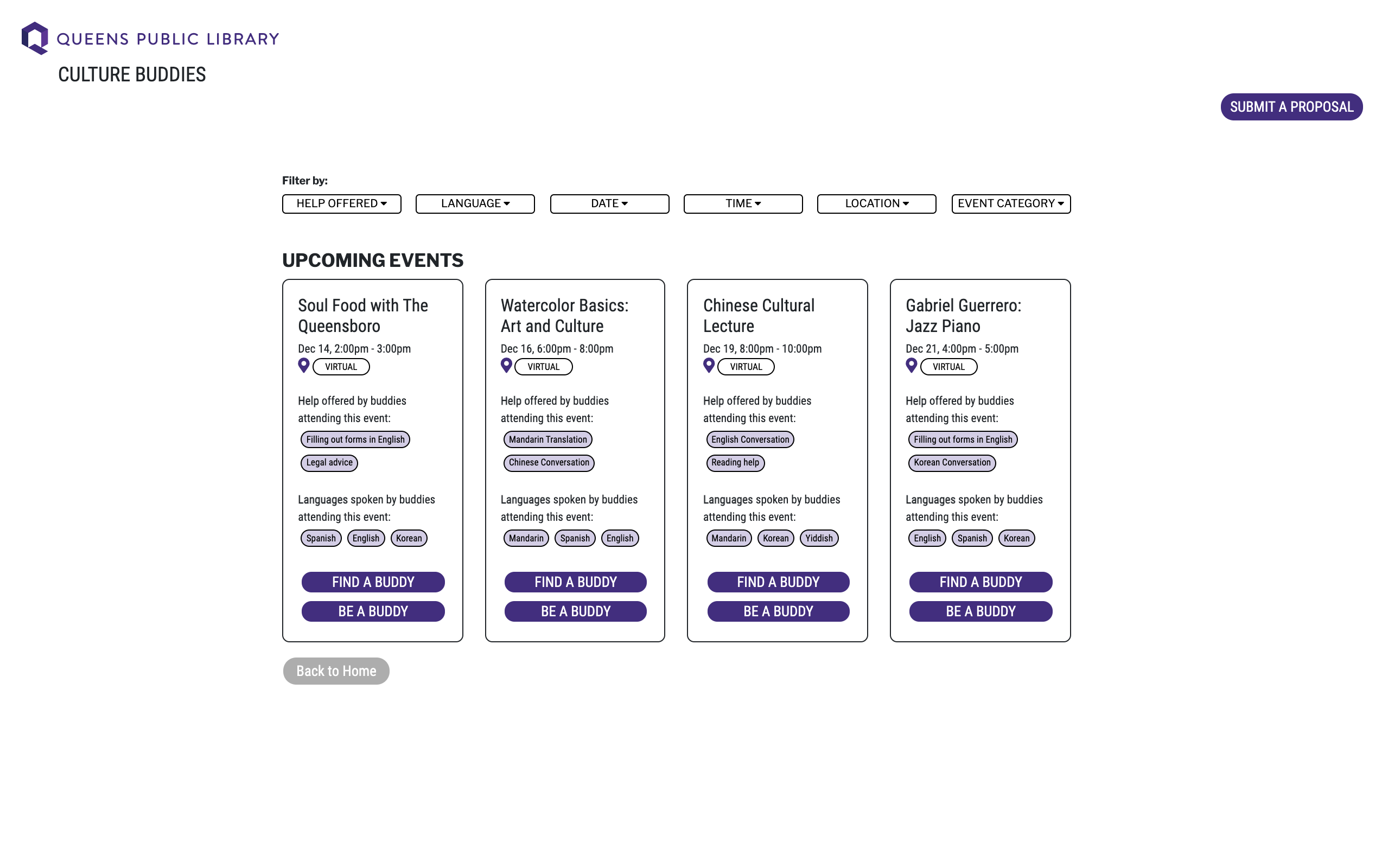 Current Prototype Demonstration
Here is a walkthrough of our current prototype:
Feedback
The feedback we received on this final prototype (for now) was generally positive and emphasized ease of usability, something that we had made our goal from the start since our program was designed for use particularly by immigrants and non-English speakers:
"I appreciate how clear and straightforward the instructions are."
"I enjoy how clean the site looks, it looks simple and easy to navigate."
Drason (1st gen, Chinese)
However, users that we tested our final prototype on also suggested that we could make the program even more usable by including things such as color coding on the events page based on different languages to make it easier to recognize information on first glance and showing the category that events can be filtered by directly on the event cards.
Next Steps
We will soon meet with Nick Buron, QPL's Chief Librarian, to discuss the implementation of the Culture Buddies program and its integration with the QPL website. However, that does not mean our work is done, we plan to further iterate on our design and technical prototype to better address the concerns we had for our project throughout this course, that is, we hope to engage with more vulnerable populations to truly understand the needs of those who may not have the same privileges and access as the populations we engaged with during our research process, and we also hope to find more ways to ensure that Culture Buddies is free of bias and is something that people of all cultures and backgrounds will be open to using.
Reflections on the PIT Process
Thoughts on the PIT Double Diamond
The PIT Double Diamond has been both a useful and challenging resource. On one hand, it reminded us about important steps that we couldn't leave unattended before moving to the next phase, but it simultaneously forced us to move forward even if previous steps were not yet fully completed. This pressure to move on was necessary in order to not get stuck at one particular stage. Engaging with PIT questions through the design process was a consistent reminder to take a step back and think critically about the risks of creating the solutions our team was proposing.
Additionally, taking a public interest technology approach on this project forced us to think about our target users from a different lens. Often, when designing digital products, there is a specific target demographic in mind that the product serves, and designers only really need to design for that target demographic. However, with public interest technology, our goal is to design something that is usable and accessible by all populations, even the most vulnerable ones. Keeping this in mind, throughout our project, we learned a lot about how to make our program more accessible, in terms of both usability and understandability of the purpose and language of the program. Taking a public interest technology approach to design is something that requires empathy and understanding, something we became more aware of as we progressed through our project.
Advice for Future PIT Designers and Developers
We would remind anyone that wants to put into practice the PIT Double Diamond design process of the importance of coming back to testing and interviewing at any part of the process. The most important decisions we took in our project were based on the outcome of these two phases, with engagement truly being the most important part of our research.
We would firstly like to thank our mentor, Laura Kurgan, for advising us through the duration of our entire project, helping us get valuable data and connections to aid with our research and engagement process, and providing us with feedback that really influenced a lot of our design decisions.
We would also like to thank Nick Buron for taking the time to discuss the possibility of turning our prototypes into a reality.
We want to thank the other PIT instructors, Lydia Chilton, Mark Hansen, and Celeste Layne, for creating the PIT Double Diamond design process, using critical questions to help guide us through our public interest technology project.
Finally, we would like to thank all of our classmates along with our TAs, Anne-Laure Razat and Stacy Tao, for always providing us with incredible feedback, much of which helped influence our design decisions.
We learned a lot through this process, and none of it would have been possible without all of your help.